Fin Guru FAQ (FUTURES)
Name - Connor
Height: 6'0"
Weight: 165 lbs
Board Brand: Aipa
Board Model: Dark Twin
Board Length: 5'10"
Board Width: 19 1/2"

Board Thickness: 2 9/16"
Board Volume: 30.3
Fin System: Futures
Fin(s) currently riding: CI AMK Keel Fin Set
Please describe below what it is you are wanting more of out of your current fin/board experience (example - more drive, tighter turns, more release....etc) or any other questions you might have about fins or fin systems. Thank You.
I really like the twin fin feeling of my aipa dark twin. The fins im currently using provide a lot of drive on steeper waves but I would like a little tighter turns on open faces.
Fin Guru response:
Hi Connor - so I literally have been going through this same problem myself. I started off with the NVS Doc template because it worked good in a different board I had with a more pulled in pin tail. Then I tried the Panda twin. Both of them didn't have enough drive through my cutbacks. So I switched to the Christenson Keel. Problem solved, but not for long! I had drive and speed. But, then I noticed it wasn't drawing the line I wanted to take. I wanted to get tighter arcs. Then I found the fin ... The Britt Merrick Twin. I put it in and I had drive but it drew a much tighter arc. I kept riding it and man, I am loving my board more and more each time I ride it!!
So the AM keel has a base of 6.46 and height of 5.15 the Christenson Keel that i was riding has a base of 6.38 and height of 5.12 - so pretty similar
So the other thought was the EN by Futures - more upright and good size for that template but the surface area is only 22.75 where the keel you are riding has surface area of 25.54
The Britt Merrick (BMT) has base of 5.77 height of 5.39 and surface area of 23.58 (more than the EN) i really think this fin has done a good job of being somewhere in the middle to where it has drive but still carves tight turns - This is the fin template i would recommend checking out for sure! Plus we have the BUY TRY and DECIDE 30 day return policy now. Read about it here https://usedsurf.com/buy-try-decide/

https://usedsurf.com/futures-bmt-twin-new-fins/
Hope that helps
Remember it is wise to try New things
Stay Calm and Balanced my friend,
Fin Guru - want to ask me a question? - CLICK HERE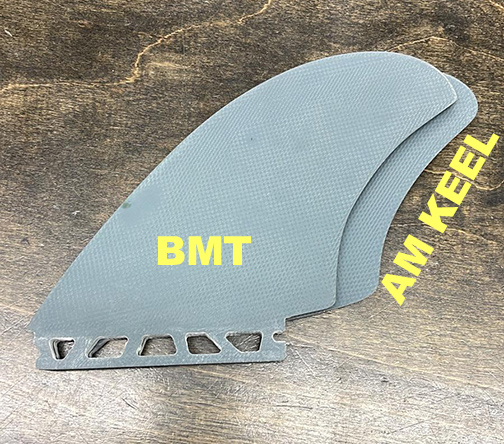 The Fins mentioned in this post
https://usedsurf.com/futures-bmt-twin-new-fins/
https://usedsurf.com/futures-en-twin/ https://usedsurf.com/captain-fin-co-futures-compatible-christenson-keel-smoke/
https://usedsurf.com/captain-fin-co-futures-compatible-panda-twin-1/